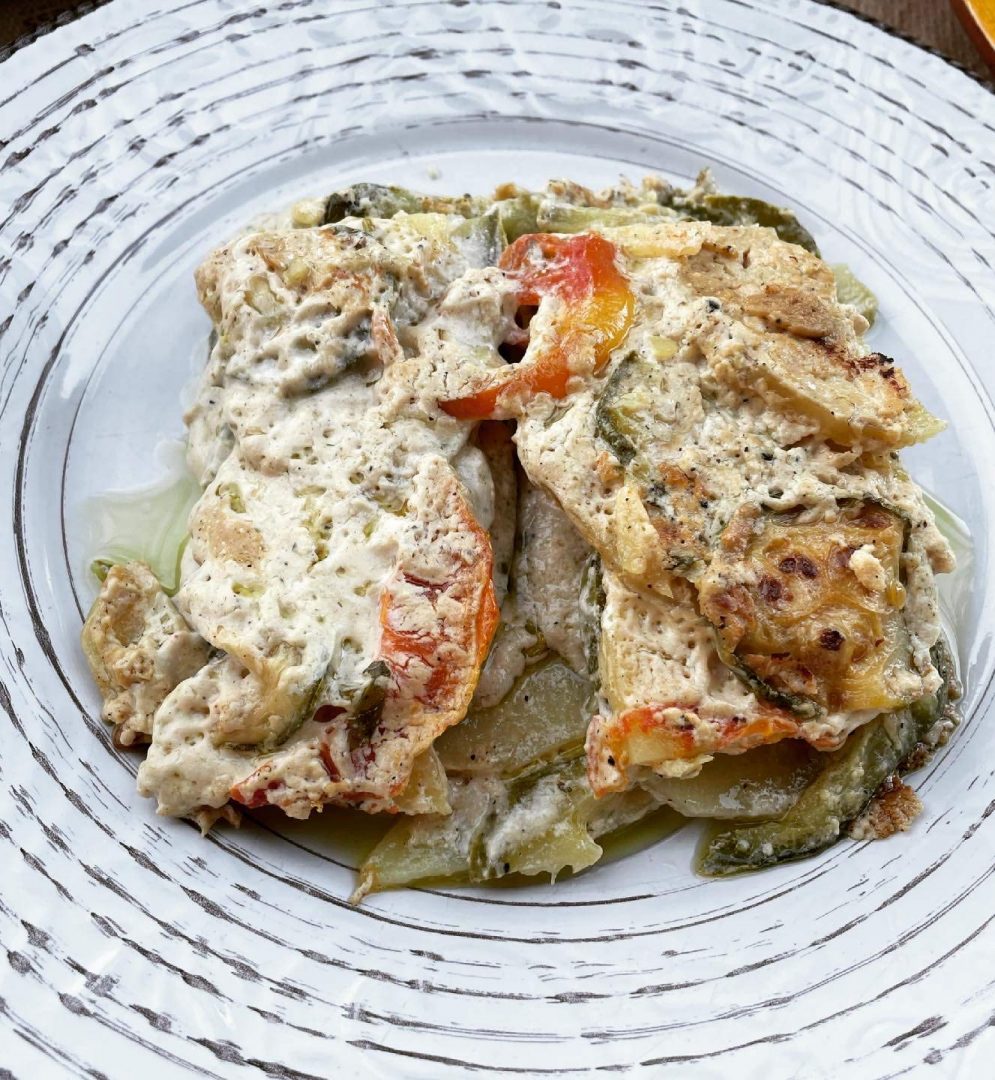 Boureki
SERVINGS: 8 | PREP: 35' | COOK TIME: 90'
INGREDIENTS for the phyllo
500gr of all use flour
250ml water
60ml olive oil
30ml lemon juice or vinegar or tsikoudia
½ dessert spoon of salt
INGREDIENTS for the filling
800gr potatoes
2.5kg large ripe zucchinis
4 tblspoons of finely chopped mint
800-1000gr mizithra cheese from Chania or ricotta cheese
Salt
Pepper
Olive oil for frying (less than a mug)
INGREDIENTS for the topping
1 tblspoon of tomato pulp in ½ mug of water
1 egg
30-45ml olive oil
---
COOKING STEPS
Prepare the dough by mixing the liquid ingredients (olive oil, lemon and water) and add salt and flour, or vice versa.
Knead until you get a non-sticky dough.
Leave the dough to rest under a wet towel.
Peel the potatoes and chop them into thin slices. Salt them and fry them slightly.
Cut the zucchini into thin slices, salt them and fry them as well.
Chop the mint.
Divide the dough into two portions, one being larger than the other. Open the biggest phyllo piece and place it on a slightly oiled baking pan, size 25cmX35cm.
Layer the potatoes and sprinkle some pepper, ¼ of the mizithra and ¼ of the mint.
Then place 3 layers of zucchini, with mizithra and mint in between layers.
Finish off with mizithra and mint. Open the second phyllo and cover the boureki.
Gently divide into portions with a knife.
Dilute the tomato pulp into the water and pour it on the boureki.
Mix the egg yolk with the oil and spread it over the suface.
Bake the boureki to 180-200°C for 80'-90' just below the middle position.
Wait till the surface looks baked.
Preferably serve it warm, fresh from the oven.